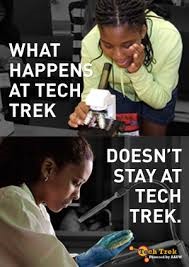 February
Continue accepting volunteers
Continue accepting Student Applications
Student Selection Committee Training at 10 W. Jimmie Leeds Road (in Galloway and via Conference Calls

February 7 or 12 at 6:00pm

)
Student nomination forms due from teachers to Tech Trek Selection Coordinator –

Deadline Extended to February 16

.
March
Student applications due to Tech Trek Camp Selection Coordinator –

March 2

Interviews of Tech Trek applicants begins –

March 5

Confirm list of dorm monitors, day counselors and begin background checks
Order materials and supplies from Curriculum Committee
April
Finalize Student Counselors Selection
Volunteers complete applicant interviews –

 April 8

Committee members recommend campers and alternates –

April 13

Director and Selection Coordinator Finalize Campers –

April 16

Registration/Fee Documents Sent to Families – 

April 17
May 
Registration documents and $50 fee from families due –

May 1

Tech Trek Camper Packet to Parents –

May 2

Camp Schedule
What to Bring To Camp
Camp Policies and Rules
Core Class, Permission, and Medical Forms

Campus Meet & Greet at Stockton Campus Center – May 12
June
Camp forms due – June 4 

(AAUW NJ Tech Trek Camp c/o Stockton University, 101 Vera King Farris Drive, Galloway NJ 08205).

Campers assigned to Dorm Rooms, Classes, and Workshop Groups
July
July 7th and 14th

–

Orientation Days for Staff

July 15th – 21st

 Camp!
August
Tech Trek Organizers debrief with Camp Volunteers
Tech Trek Organizers process camp expenses
September 
Tech Trek Organizers submit Camp Report to AAUW national office
Tech Trek Alumni and Organizers begin visits to sponsoring branches to share stories from the camp and say thank you for the support
October
Tech Trek Organizers recruit volunteers; prioritize Selection Committee Volunteers
Camp organizers and volunteers raise funds from private giving and local or regional grants
Volunteer committees begin forming: Student Selection, Curriculum, PR & Marketing, Dorm Mom and Counselors, and Fundraising
November
AAUW national office holds annual Director Training
Camp organizers revise web site to align with materials from Directors' meeting
Web site accepting Volunteer Workshop Presenters and Speakers
December
Curriculum Committee begins to review curriculum
Emails go out to NJ principals seeking Teachers' Nominations for students to attend Tech Trek
Student Selection Committee begins to accept Teacher Nominations of Students
January
Emails go out to NJ principals seeking Teachers' Nominations for Students to attend Tech Trek: Nominate a Camper!
Continue to accept Teacher Nominations of Students
Student Selection Committee Training dates announced (in Galloway and via Conference Calls

February 7 or 12 at 6:00pm

)
Continue to recruit and select camp volunteers
Archived AAUW STEM Tech Trek Daily Camp Schedules
#TechTrekNJ